Rang de Basanti
To educate myself on one of my favourite art forms, film, I occasionally hold film festivals for myself and any willing participants (who are rare). I have done this for 1950s science fiction, American war films, and film noir. I know these genres well enough already, though. To push myself further, this spring I chose a genre that I have avoided because I was certain I would hate it: Bollywood musicals, or more properly, Hindi popular film. I expected to be horrified by the stock characters and sentimental plots, but I wanted to learn something new. Maybe I was being judgmental for no reason.
I scoured the Internet for "best of" lists and cross-checked them with my
local library's holdings
. I came up with a four-film list, and away I went.
The first film I saw was
Rang de Basanti
(2006). I chose it both because I found it on more than one list and because I have a song from the soundtrack in one of my playlists, having become intrigued by composer
A.R. Rahman
after watching
Slumdog Millionaire
. Before
Rang de Basanti
, that film was the closest I had come to seeing a Bollywood musical. As I expected, I thought
Rang de Basanti
had an amateurish approach to characterization and plot. I also expected more dancing. I was surprised, however, by the film's invocation of the
history of Indian separatism
. The ending also shocked me: it was more like t
he end of the second season of
True Detective
than a musical.
I needed a more centre
-
of-spectrum specimen.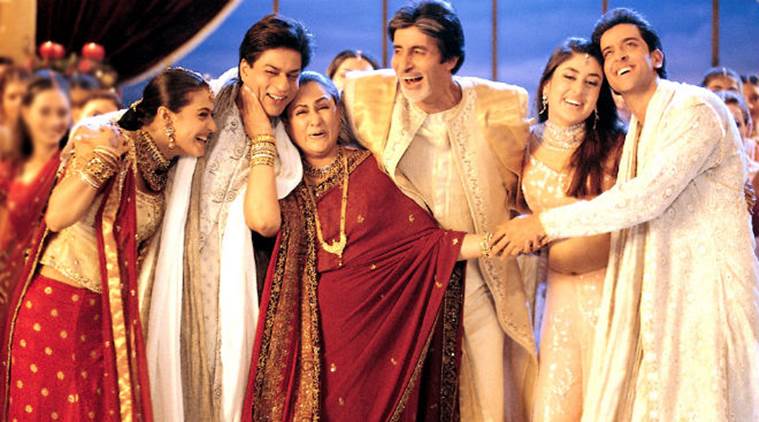 Kabhi Khushi Kabhie Gham
I think I found that specimen in
Kabhi Khushi Kabhie Gham
(2001). This is three hours of improbably impromptu dancing, slow motion shots of lovers blinking at their beloveds, formal religious festivals with traditional costumes to reinforce the genre's conservatism, and plenty of stock characters. I was impressed by the melodrama. The young actors were almost painfully handsome, and the film gave plenty of attention to their physical appearance. The title translates as Through Smiles and Through Tears, and indeed there is plenty of crying. Whole sequences involve close ups of different people looking at each other with tears welling in their eyes. All emotions run high: when the father, played by Bollywood's legendary
Amitabh Bachchan
, pronounces his disapproval over his son's choice of bride (a standard plot element in Bollywood popular cinema), the sound of lightning and thunder punctuates every sentence. The sentimentality and the music-video dancing interludes fulfilled my expectations.
These expectations were tempered somewhat in my third film-festival entry.
Anand
Anand
(1970) was made a few decades before K3G. It features a much younger Amitabh Bachchan as a doctor who cares for a man who is dying of intestinal cancer. The emphasis in this story is the dying man's cheerfulness despite his certain death and his desire to bring the stiff, lonely doctor out of his shell. The illness gives many opportunities for sad songs. Unlike the musical numbers of the other films, the singing is more contemplative than social.
Rajesh Khanna, t
he actor who plays the dying Anand, sings (or rather, lipsyncs to a track) while walking alone on the beach, standing on a veranda or strolling through the town streets. The dance number is reserved for a scene where Anand auditions for a local drama group and sees the rehearsal for a dance number.
"Hey, I know that guy! I love that guy!"
Finally, I watched
Devdas
(2002),
one in a long line of films
based on
the Bengali novel
of the same name. I recognized
Shah Rukh Khan
,a main character from K3G. ("Hey, I know that guy," I said to myself. "I love that guy!") I also recognized, albeit belatedly,
Aishwarya Rai
, who I had seen in
The Pink Panther 2
. By this point in my education, I was able to see where the film followed and deviated from the genre as I had come to know it. Much like K3G, the emphasis was on visual splendor and musical numbers. Unlike K3G, the story is a tragedy rather than a comedy. I appreciated the turn away from expectation, but I had to sit through some of the things I didn't enjoy about K3G: the endless tears, the slowness of plot development, the simplicity of characterization, and the insistence on creating a glitzy fantasy world for its characters to live in.
This film helped me identity for myself the genre that it most reminded me of: European opera. I do not like opera, for the most part, because of its emphasis on visual elements over plot and because of its glacial plot deroulement. Once I saw
Devdas
and the other films as opera, I was able to both appreciate the genre more and feel secure about letting the genre go from me. I am not giving up on Indian film: I am just saying that I have had my curiosity sated about the type of film that the term "Bollywood musical" conjured for me.
A simple primer
for Americans about Bollywood covers the surface features of Bollywood musicals. One of my former postcolonial studies professors, Vijay Mishra,
wrote a book
on the Hindi film industry, for those who want a more scholarly approach. I may dip into it myself to broaden my Indian film knowledge.
Devdas